Organizational Collaboration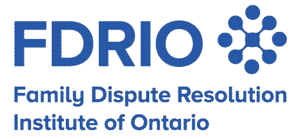 As a follow-up to our initial announcement, FDRIO and OAFM are pleased to confirm how we are collaborating to promote and strengthen family dispute resolution in Ontario. We will be actively partnering on:
• Public Awareness and Education
• Family Dispute Resolution Initiatives and Advocacy
• Professional Development and Events
• Distinct certification opportunities
• Resource Sharing
The first step in our collaboration will end the confusion and division in certifying family mediators in Ontario. Effective September 1, 2023, FDRIO will no longer certify new FDRP Med Certified Specialists in Family Mediation. As of September 1, 2023, OAFM will continue to be the largest accreditor of Family Mediators in Ontario. FDRIO will continue to focus on being the only accreditor of Parenting Coordinators and Family Arbitrators in Ontario while growing other areas of Family Dispute Resolution.
What does this mean?
• All FDRP Med Certified Members, on opting in, will be granted OAFM AccFM equivalency.
• All existing FDRP Med's as of June 30, 2023, will be given one-year free renewal with OAFM effective on their next renewal date, or effective from the date any new Member joins OAFM.
• All FDRP Med's who do not have an AccFM designation are invited to opt-in with OAFM with no application fee, before December 31, 2024
Please see our FAQs below, for more details of how this affects you
Or we welcome you to contact
• Sienna Jae Taylor, Operations Manager, FDRIO – info@fdrio.ca
• Mary-Anne Popescu, Executive Director, OAFM – director@oafm.on.ca
In addition, FDRIO is excited to announce that they will be introducing a new Certification in Mediation-Arbitration later this year and Members can use their current FDRP Med or AccFM as an entry point to this designation. Stay tuned for details.
FDRIO and OAFM Boards believe that this direction is best for all of our members, our professional community and the public. FDRIO and OAFM are looking forward with excitement, open dialogue, and alignment of purpose. We hope you will continue to support both organizations in our common goal to advance Family Dispute Resolution processes in Ontario.
Frequently Asked Questions (FAQ)