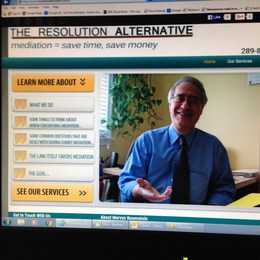 the Resolution Alternative
P: 905-889-2069
F: 905-889-2486
---
Summary
Mervyn N. Rosenstein is a mediator and arbitrator. Trained in economics and psychology from McGillUniversity, he received his Law degree from the same University. First trained in Toronto in Commercial Mediation training, he is also an alumnus of the University of Toronto Family Mediation programs, of Advanced Family Mediation, as well as the advanced course for Arbitrator Certification. He has lectured on family mediation and arbitration at YorkUniversity, as well as to public and professional groups on both mediation and arbitration, and appeared on television and radio discussing mediation and arbitration.
As a lawyer Mervyn Rosenstein practiced in the areas of family, employment, commercial, personal injury, and estate planning law, and has represented clients in personal and financial matters.
His approach to family mediation encompasses awareness of and concern for such areas as abuse potential, shared parenting, tensions, and modern needs, demands and changing roles. Comprehensive Mediation in separation and divorce cases, covers custody, access, and financial matters. He has also acted as an arbitrator in family matters.
In the commercial and civil areas, his experience as both a mediator and an arbitrator, has covered a wide range of issues. This has included insurance matters, personal injuries, wrongful dismissal, shareholder disputes, arbitration with governmental entities, etc. Other areas of interest which may overlap, include intergenerational conflicts, family businesses, estates and successions.
In addition to mediation, arbitration and law, he has for many years, been directly & actively involved in a number of business enterprises, both in Ontario and internationally. He consequently brings a particular sensitivity and awareness to the practical side of commercial, employment, family, and financial issues.
Mr. Rosenstein is a Roster Mediator with the Ontario Mandatory Mediation Plan, a Roster Mediator with the Family Initiatives Project of the Ministry of the Attorney General, a part of the former Ontario Insurance Commission's Arbitration Roster Project, past Coordinator of a Family Law Information Centre and still one of its Roster Mediators, a Roster Arbitrator with the Canadian Motor Vehicle Arbitration Plan, a Roster Arbitrator with the Builder Arbitration Forum of the Ontario New Home Warranty Program, and a Roster Arbitrator with ADR Chambers when mandated to deal with FSCO files.
He is a member of the ADR Institute of Ontario and of the ADR Institute of Canada Inc., and a former registrant with the Ontario Ministry of Consumer & Commercial Relations. He is a member of Family Mediation Canada, an Accredited Family Mediator of the Ontario Association for Family Mediation, Past President of its York County Region, Past member of its Provincial Board of Directors, and Chairman of its Central Area Executive, and a member of the Canadian Bar Association and the Ontario Bar Association- Alternative Dispute Resolution section, and the Family Law section.
Mr. Rosenstein is fluent in both English and French.
---
Issues Mediated
Separation and Divorce (custody & access - parenting)
Separation and Divorce (child support &/or spousal support)
Separation and Divorce (financial and property division & equalization)
Separation and Divorce (comprehensive - all issues - parenting, support & property)
Cohabitation Agreements
Marriage Contracts
Variation of terms of a domestic contract or court order
---
---
Areas Served
95 Mural Street, Suite 600, Richmond Hill
North York, Thornhill, Richmond Hill, Markham, Vaughan, York Region
---
220 Duncan Mill Rd. Suite 616
North York , M3B 3J5
ON , Canada